This article was originally published by MidWeek.
Evan Leong
Posted on September 17, 2014 by Jaimie Kim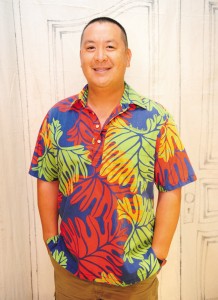 Two things are certain about Evan Leong: He likes business and he likes to give back.
After he and wife Kari quickly achieved success with the launch of Bubble Tea Supply in 2001, Leong, who appeared on MidWeek's June 1, 2007, cover, began looking for a way to marry business savvy with community involvement. It was in 2005 that he established Greater Good Radio, which eventually led to Greater Good TV and a book released in 2007. The popular shows featured interviews with successful business leaders, who shared their experiences in the field and the importance of community service.
"All of that was designed basically to encourage businesspeople to start giving back to the community and getting involved in leadership positions," he says.
His newest project, Kokua.org, is an extension of Greater Good Inc., and seeks to unite individuals from various professions.

"Whether it's business or nonprofit, or military or government, (we) try to focus on building relationships, cross-sector, as well as help each other solve problems," he explains.
In working with people involved in nonprofits, the group discerned that aside from fundraising, many organizations struggled with meeting marketing needs. To help with this, which Leong says ultimately will positively impact fundraising efforts, Kokua.org will sponsor its first event next month.
Presented by Proservice Hawaii with co-sponsor Box Jelly, AD UP Hawaii is a mashup of Startup Weekend and Ad2, and is helmed by "fearless leader" Tori Abe, director of marketing at Hospice Hawaii. The two-day event begins Oct. 3 with a mixer at Honolulu Beer Works. Participants will join four teams representing Hawaii Literacy, Habitat for Humanity, Kumu Kahua Theatre and Good Beginnings Alliance, with representatives from local ad agencies, as well as other marketing professionals — all volunteering their time to create and complete a marketing campaign in only nine hours.
The next day, at Box Jelly, in addition to creating campaigns, three workshops on branding, PR and social media will be offered and are open to non-participants who register online.
"We're really looking at ways to bring the community together to do things that are beneficial to the community, where people can utilize their skill set," says Leong. "Instead of me hitting you up for money, I'd rather have you volunteer your skill set."
His desire to work closely with the community is rooted in a simple belief that everyone matters.
"I think that, when you realize and see how many people it actually takes to kind of hold a community together, I mean, it's a lot — and that could be anyone," he says. "We're just trying to do our part, and I think that things like this bring people together and everybody kind of wins."
For more information on AD UP Hawaii and to register for its workshops, visit aduphawaii.com. Greater Good Radio shows still are available online and may be accessed at greatergoodradio.com. For more information on Leong, visit Kokua.org.